Dental prophylaxis in the Canary Islands
Deep tooth cleaning in Clínica ICA
Advanced tooth cleaning in the Canary Islands
Oral health is of crucial importance to our health, as a large amount of bacteria can accumulate in the mouth, putting our wellbeing and health at risk.
Therefore, maintaining proper dental hygiene is essential to keep harmful bacteria under control. Cleaning our teeth should be a fundamental aspect of our health care.
Dental prophylaxis treatment refers to professional teeth cleaning. It has so many short and long term benefits that it has become one of the most demanded treatments in our clinic.
The main objective of a prophylaxis treatment is not only the cleaning of the mouth, but also the prevention of infections or diseases that can cause problems in our teeth or gums.
The appearance of these diseases can be largely due to an excess accumulation of bacterial plaque on our teeth. If we remove this plaque before it accumulates in excess, we will avoid cavities or gum problems such as gingivitis or periodontitis.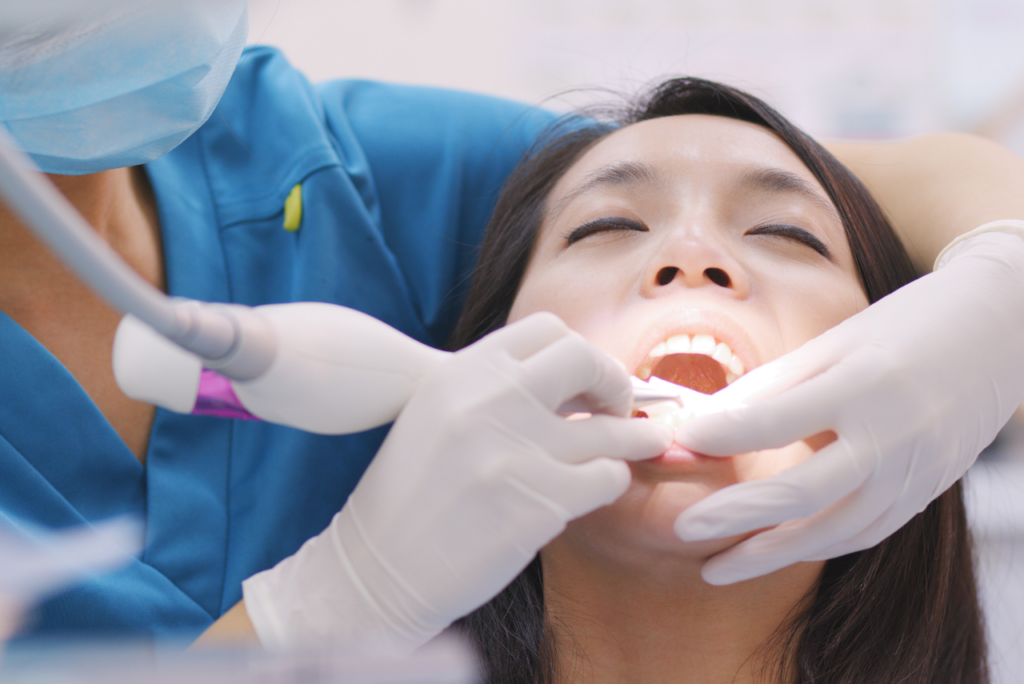 What does dental prophylaxis consist of?
At Clínica ICA we have a great team of dental hygienists who will carry out the dental prophylaxis treatment in the most professional way and guarantee the best results.
The treatment usually lasts about an hour and is practically painless, so no anaesthesia is required. The enamel is not damaged by the prophylaxis, so we will not suffer from excessive tooth sensitivity after the treatment.
At Clínica ICA we recommend having your teeth professionally cleaned at least once a year. If, on the other hand, you have suffered or are suffering from periodontal disease, we recommend a more exhaustive maintenance, visiting the clinic approximately every 4 or 5 months.
How is dental prophylaxis carried out?
To carry out a correct dental prophylaxis, it is first necessary to carry out a prior assessment of the hygiene status of the patient's mouth. In this step we will check the levels of tartar and bacterial plaque present on the teeth, as well as the state of the teeth and gums.
At first glance, we must rule out the presence of periodontal diseases, making prophylaxis more difficult, or in any case making it much more exhaustive.
Subsequently, at Clínica ICA we work with a high-precision ultrasound machine, which will first remove all the bacterial plaque accumulated above the gum. Later we will go on to remove all the plaque that accumulates below the gum and between the teeth. For the latter, we will use less invasive means such as floss or brushes.
Then, in order to polish the surface of each of the teeth, we use professional brushes and a special toothpaste. This will not only leave the enamel in perfect condition, but will also remove spots caused by age or poor diet.
Finally, to alleviate possible discomfort caused by an oral cleaning, we will apply an anti-inflammatory gel or a simple fluoride treatment. In addition, at Clínica ICA we will advise you on the thorough cleaning of your teeth, so that you can delay the appearance of bacterial plaque and possible dental infections as much as possible.
We must not forget that proper oral hygiene is the best weapon we have to avoid future diseases in the mouth. In the case of developing them, at Clínica ICA we have an incredible team of professionals to bring your mouth back to normal.
What are the benefits of this treatment?
The benefits of prophylaxis go beyond health and oral hygiene. Obviously, the most important thing is to avoid the appearance of bacteria and diseases in our teeth and gums. However, dental prophylaxis also provides many other benefits.
Prophylaxis allows us to restore the healthy and aesthetic appearance of our teeth, which often lose these qualities due to the passage of time. Plaque and tartar cause our teeth to lose their healthy white colour and with prophylaxis we can restore this in a matter of minutes.
As if that were not enough, prophylaxis is an excellent method for solving halitosis problems. Thanks to the professionals at Clínica ICA we will say goodbye to that annoying bad breath that can play tricks on us at family, friends or work gatherings.
Fill in the form below and we will contact you to tell you what the next steps are.
Alternative treatments to prophylaxis
When a prophylaxis treatment is not enough to restore your mouth to its usual health and wellbeing, further procedures are necessary. This is especially the case when bacterial plaque has reached a greater depth in different areas of our gums.
For these situations, it may be necessary to resort to more invasive treatments such as root scaling or curettage. With these treatments we will not only remove excess tartar, but we will also remove diseased and infected tissue around our teeth.
As previously mentioned, oral prophylaxis is extremely important to avoid diseases and aesthetic problems, as well as to avoid having to undergo more invasive procedures.
At Clínica ICA we work so that the health of your mouth is in perfect condition, providing you with a completely professional treatment offering you the best cleaning, implantology and dental surgery services. You will gain in health, aesthetics and, above all, in your general wellbeing.