Medical laser hair removal in the Canary Islands
Remove your hair permanently
The best medical laser hair removal in the Canary Islands
Medical laser hair removal is a method by which the removal of unwanted hair is permanently guaranteed whatever the body area. A laser is applied to the skin and does not require general anesthesia. However, an anesthetic cream is applied to reduce the perception of pain.
Today, there are different types of lasers such as Alexandrite, Diode, Neodymium or GentleMax Pro. All these types are reliable and ensure hair destruction without damaging the skin layers.
Our clients use medical laser hair removal to permanently remove all body hair.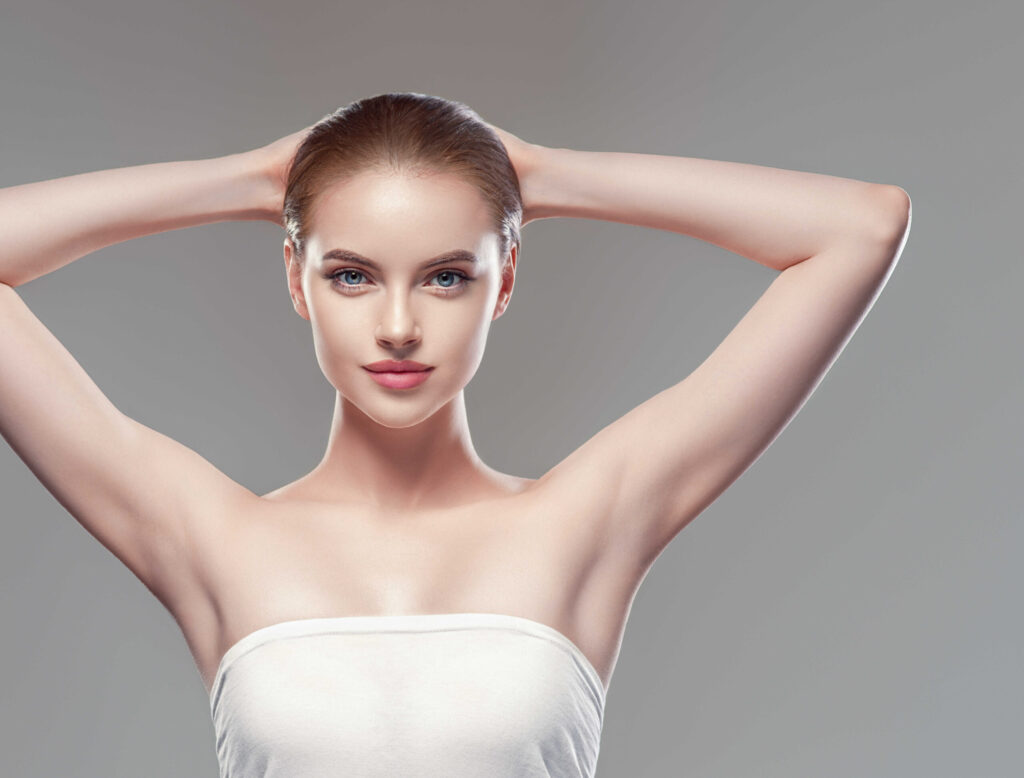 How medical laser hair removal works?
The mechanism of the laser is as follows. The pulsed light condenses on the hair and gives way to its removal. Session by session, a portion of hair is removed from the treated area. However, each hair has its own growth rate, and therefore, there will be a part of the hair that will grow back. This is the main reason why the process has to be repeated in several sessions, depending on the area to be depilated, the color and type of both hair and skin.
Generally, in light skin with dark hair, the results are usually seen earlier. For each patient the treatment is personalized, this means that the intensity of the laser to be applied is regulated.
Before we perform a hair removal treatment, our specialist will submit you to a skin analysis and the patient's medical history to prevent allergic reactions or contraindications. Make an appointment to find out if you can undergo one of our laser hair removal treatments.
How Laser Hair Removal with GentleMax Pro Works?
GentleMax Pro is one of the best alternatives in hair removal processes. It is applicable to all skin types even if you suffer from vascular or pigmented diseases. This system combines the 755 nm Alexandrite laser, which is the fastest and with the highest levels of strength; with the 1064 nm Nd: YAG laser, to use treatments of high level of benefit in terms of speed, ease, utility, reliability and exceptional results.
This laser with its large head of 20/22/24 mm, is the fastest hair removal laser on the market.
Advantages of medical laser hair removal
Some of the most frequent advantages of using medical laser hair removal are the following:
Putting yourself in the hands of experts. A fundamental criterion when making this choice is to be in the hands of a team of professionals with the knowledge and experience necessary for the execution of a high quality service.
Permanent hair removal. Traditional and homemade methods such as razors, waxing are simply temporary and the hair comes out again. With the laser this problem does not exist and you can forget about your hair in a few sessions.
Cost-effectiveness. Obviously the price of the laser is higher than home methods but in the long run it is much more profitable not only economically.
Say goodbye to ingrown hairs. Medical laser hair removal prevents ingrown hairs by preventing them from coming back.
Many people choose to spend a little more on professional hair removal to look better in terms of aesthetics and health, thus improving their quality of life, without side effects.
Fill in the form below and we will contact you to tell you what the next steps are.
Frequently Asked Questions about Medical Hair Removal
Advantages of GentleMax Pro
This treatment is applicable to any type of skin, regardless of its color or tone. In addition, you can have a hair removal treatment with the GentleMax Pro laser at any time of the year without having to avoid the sun's rays for long periods of time.
How many GentleMax Pro sessions are needed?
The number of sessions needed to remove your hair depends on the area. That is why we always recommend that you make an appointment so that we can advise you and tell you the number of sessions you will need.
How much does laser hair removal cost?
The price also depends on the area. Depending on factors such as the resistance of your hair or its color, more or less sessions will be needed to remove it permanently. Ask for an appointment so that we can inform you of our rates.
What care is necessary before a session?
We always recommend that the patient properly hydrate the skin before the laser hair removal session. 
The doctors that make up our team advise using some type of lotion such as Aloe Vera or creams to protect the skin well after the operation. You should also maintain proper hygiene of the area by washing it with soap and water. Do not shave the hair, wait for it to fall and use a skin photoprotector.