Micrografting hair transplant in the Canary Islands
Get fuller hair with the FUE technique
FUE Hair Grafting in the Canary Islands
In recent years, alopecia has become increasingly common among adult men and women of practically all ages. We notice how our hair falls out irremediably and this tends to have serious consequences in different aspects of life.
There is no denying that hair is a fundamental part of a person's attractiveness. That is why maintaining healthy and strong hair has become a major concern for many patients.
Fortunately, in recent years there has been a breakthrough in hair restoration techniques. Especially hair micro-grafting operations, which are undoubtedly the most reliable and definitive option to recover our hair.
Within the hair micro-grafting methods, we can use various techniques, each with its pros and cons. The most widespread technique and the one which, in general, offers the best results, is the FUE technique, which we explain below.
What is the FUE technique?
The FUE technique is currently one of the hair micro-grafting techniques most commonly used in clinics throughout the country. It has spectacular results and achieves definitive hair recovery.
At the Clínica ICA we are specialists in hair micrografting techniques, thanks to our team of qualified professionals and the personalised attention we offer our patients.
In general, all hair micrografting techniques consist of extracting hair follicles from a donor area of our scalp and implanting them in a recipient area. These techniques usually require great precision due to their characteristics.
The main difference between the FUE technique and other hair micrografting techniques such as FUSS is that in this technique we extract the hair follicles individually instead of in strips. In this way we achieve a meticulous work and especially useful for repopulating small areas with great results.
This hair technique is always performed under local anaesthesia, which means that the procedure is completely painless, apart from the anaesthetic injection. Once it has been applied, you will not be aware of anything.
With the FUE technique, the hair is transferred from the donor area to the recipient area. The procedure is 100% safe as long as it is carried out by qualified professionals. At Clínica ICA we will carry out an honest and transparent study in which we will explain to you what results you can achieve.
Who is hair micrografting recommended for?
At Clínica ICA we recommend this treatment for all adults (preferably from the age of 25) who are beginning to suffer from alopecia or uncontrollable hair loss.
There are other treatments to try to stop hair loss, such as the application or intake of medicines like Finasteride or Minoxidil. However, these treatments do not always guarantee results, and even less so when we are talking about advanced alopecia.
If our hair loss is too widespread on the scalp and our donor areas do not have enough density, it is likely that we will need another type of hair graft. At Clínica ICA we will study your case to tell you which option is best for you.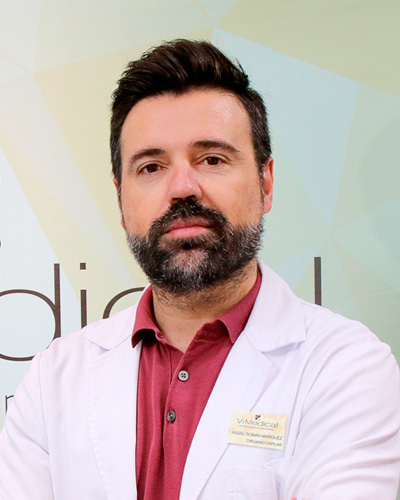 Meet Dr. Ángel Román Márquez
Dr. Ángel Román Márquez is the hair graft specialist at Clínica ICA. During your first appointment he will study your case and help you decide if this procedure is the most suitable for you.
In addition, in this same consultation he will resolve any doubts you may have about the treatment, and will explain all the details of the treatment to you.
Frequently asked questions about micrografting hair transplant at ICA
Can hair fall out again?
The hair that we implant with the FUE technique is genetically prepared not to fall out.This is due to the fact that the donor area of our scalp is usually the back and nape of the neck, which are never affected by alopecia.
Once the hair has been transplanted to the recipient area, it grows as if it were in the donor area. This means that the FUE technique is considered to be the best option of all for micrograft hair transplant.
How is hair micrografting?
In the FUE technique we can distinguish three phases within the intervention: 
Phase 1: fundamental phase of the intervention in which the extraction of the hair follicles takes place and requires great precision. In this procedure we use cylindrical micro scalpels of 0.8-0.9mm in diameter.
Phase 2: preparation of the hair follicles for implantation in the recipient area. Up to 3000 individual hair follicles can be prepared.
Phase 3: The hair follicle implantation phase, which is very similar to other techniques such as FUSS.
Do I have to shave my head?
In the FUE technique, shaving the donor areas is mandatory in order to extract the follicles accurately, as the shorter the follicles are the better we can extract them.
The problem is that there are a large number of patients who, for work or aesthetic reasons, prefer not to shave. For this reason, at Clínica ICA we always recommend that the person undergoes the procedure in quiet months with few social events, in order to minimise these problems.
We have 3 methods for shaving our donor area before the operation:
Total shaving, in which we shave the entire scalp. This shaving technique is undoubtedly the most effective and the one we recommend by default, especially for men.
Partial shaving, in which we only shave the donor area.This will mean that our appearance will change less after the treatment, so aesthetically it may be a better option.
Flap shaving, in which only some parts of the donor area are shaved so that the rest of the hair falls over it, partially covering it. This type of shaving is usually chosen by most women for aesthetic reasons.
What are the advantages of this treatment?
Any hair micrografting technique performed by qualified professionals such as those who make up the team at Clínica ICA will offer good results. Even so, there are reasons to choose the FUE technique over other hair surgery procedures.
The main advantage of the FUE technique is that it is a follicle by follicle technique, so that the intervention leaves no visible scars. Only small scabs will form, which will fall off and disappear during the first two weeks.
In addition, by not removing strips as in the FUSS technique, we can maintain the hair density of our donor area, which makes the postoperative period shorter and with fewer aesthetic problems.