Facial and body massage in Canary Islands
Relax your body and mind with this effective treatment.
Facial and body massage at Clínica ICA
Currently one of the main problems that almost all people have in common is that they suffer from stress. Stress affects them emotionally and prevents them from enjoying their experiences.
Stress is a direct consequence of the hectic pace of life in the big city, overwork and the amount of problems we have to solve, especially if we have a family or a responsible work life.
Fortunately, at the same time that stress is growing in the population, increasingly effective methods have been developed to combat it, so that we always manage to find a place to go when we need relief from all the accumulated tension.
At Clínica ICA we have numerous incredible relaxing massages, both facial and body, which will provide you with incredible benefits both physically and mentally, as you will not only get to relax and eliminate stress, but you will also get an improvement in blood circulation and an improvement in physical condition, among other things.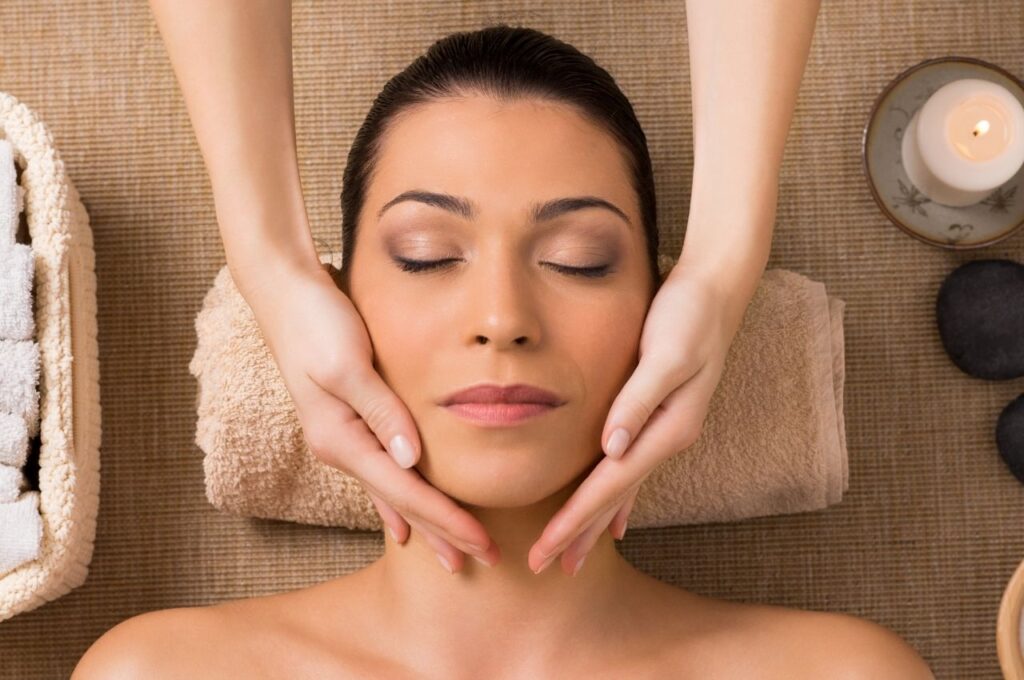 What are the benefits of facial and body massage?
Massage not only relieves stress and, as its name suggests, relaxes us, but also has other very positive benefits for our body.
At Clínica ICA we use massage especially when there are mild muscular problems, being especially common contractures. These problems are usually caused by an excess of tension in the muscles of the body, being the back and neck the most frequent and most problematic places.
With the relaxing massage we work directly on the muscle fibers, causing the muscle to relax. It is common after long loads of work and effort, end up having bad postures, which end up injuring the muscles and causing pain.
Tension affects all parts of the body, including our face. That is why, with an excess of tension, we can experience headaches and even the appearance of expression wrinkles in the long term.
In addition, with massage we greatly improve blood circulation, which will bring more oxygen to the tissues of our body. This will cause our organs to function better and, in general, we have a greater well-being with our body.
How are these massages done?
At Clínica ICA we are specialists in facial and body massages. We have an incredible team of professionals with the knowledge of a large number of techniques that provide you with the best possible service.
Here we summarize some of these techniques: 
Rubbing or gliding: it consists of a superficial caress, in which we gently and slowly rub the area to be worked on with both circular and horizontal movements. This type of massage is perfect to improve circulation and stimulate skin regeneration.
Kneading: is one of the most common massage techniques, and consists of squeezing the soft tissues of our skin, so that we lift and slide the muscle tissues. These maneuvers serve especially to nourish the muscle and to provide complete relaxation.
Friction: is a technique that consists of making very brief and precise circular movements, exerting some pressure with the finger area. Its main use is to massage the joints, obtaining great benefits in our well-being, since it relaxes and offers an analgesic effect.
Percussion: as its name suggests, it is a technique that percusses directly on the body giving light blows quickly with the sides of the hands or with the palm. It is a very stimulating and relaxing massage technique. It nourishes the muscle and develops contractility and improves our nerve endings.
Rolling: is a technique similar to gliding, but performed with the knuckles. The tissues are moved forming small circles. It is one of the best techniques to eliminate contractures and relax the muscle.
Fill in the form below and we will contact you to tell you what the next steps are.
Frequently asked questions about facial and body massage at ICA
Is the massage painful?
Not at all. The massages at Clínica ICA are performed by professionals who will make sure to give you the best treatment. Instead of pain, you will feel a huge relief when you notice how contractures and accumulated stress disappear.
How often should I have a massage?
There is no medical guideline for a relaxing massage, either facial or body. At Clínica ICA we believe that it is the patient himself who should determine the frequency that best suits him.
Whenever we need it and we feel little discomfort, we can go to the clinic to enjoy a service that will bring us multiple benefits.
Does facial and body massage have any contraindications?
Generally speaking, the massages we give at Clínica ICA are not very invasive and we try to ensure that they only have beneficial effects. However, it is possible that, if we have serious physical injuries, a massage can be counterproductive.
It is important to always go to our family doctor if we suffer severe pain in any part of our body. He will be able to advise us if a massage can be a bad decision.
Similarly, in the early stages of pregnancy it is not recommended to undergo a relaxing massage, since excessive compression in various areas can interfere with the normal development of the fetus. This applies, of course, in the abdomen and lumbar areas, but you can enjoy a facial massage or other areas such as the neck.
Can I give a relaxing massage as a gift?
Of course you can! Facial and body massages are an excellent way to surprise our loved ones with a gift that is impossible for them not to enjoy. We will be able to offer a gift with a double utility, since surely that person can use it to relieve the tensions of their day to day and improve their physical wellbeing.