Blemish removal in the Canary Islands
Say goodbye to blemishes at Clínica ICA
The best treatment for the removal of blemishes or spots
The appearance of dark spots on the skin is one of the most common aesthetic problems. Whether it is redness caused by problems such as rosacea, or dark spots with different causes, these lesions can be a serious appearance problem when they occur.
Luckily, at Clínica ICA we bring you the best spot removal treatment available today: laser or pulsed light treatment. Regardless of the origin of the imperfections, this method is the one that gives the best results at an aesthetic level. If you have already tried everything to get rid of your skin blemishes, you are in the right place.
Below we will solve all your doubts about the removal of spots with laser; and we will explain how this treatment works, its price and the number of sessions needed to achieve the best result.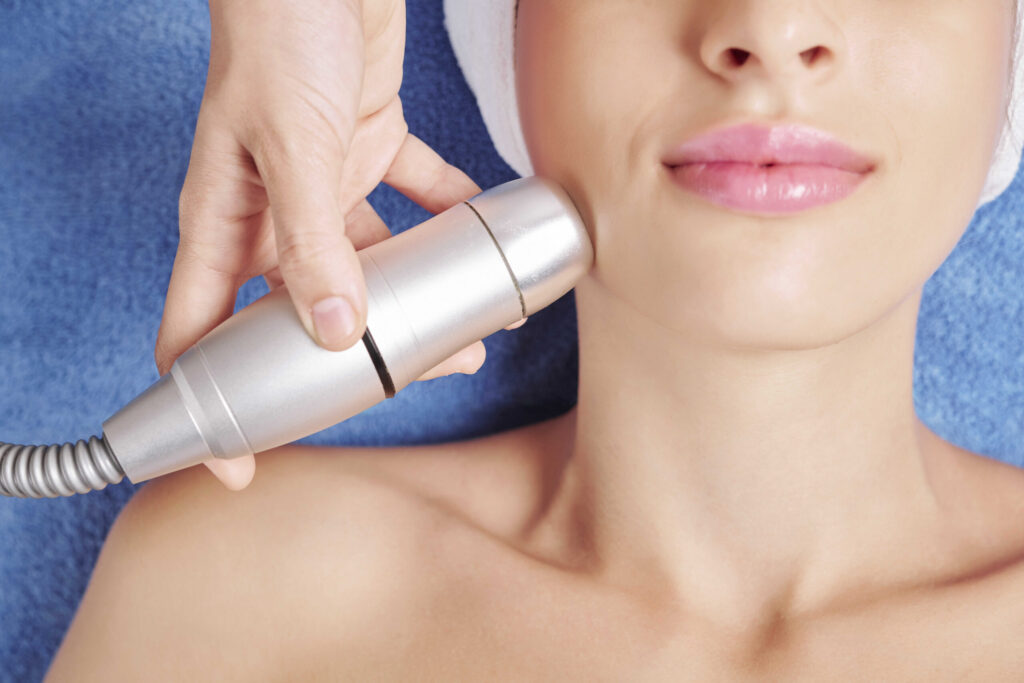 Removal of blemishes with laser in the Canary Islands
People come to our dermatology office because with the passage of time their skin begins to show symptoms such as spots. Despite having tried many alternatives, most of our patients have not been able to get rid of these annoying imperfections. Therefore, at Clínica ICA our main objective is to eliminate these skin imperfections, whether on the face or on the body.
In this sense, the most effective option is laser treatment. This has endless applications in the field of aesthetic medicine; and it is one of the best alternatives for the elimination of spots on the complexion, neckline or hands. With this treatment we can destroy the excess pigment or end the redness without damaging the skin or the skin of the treated area.
This treatment is painless and leaves no scars or marks. Its use varies depending on age, skin type and skin tone, but today it is one of the most recommended alternatives to remove skin blemishes.
How does blemish removal work?
The laser treatment to remove blemishes consists of using a very intense but brief radiation discharge. The laser impacts on the skin and generates the rupture of the cavities that store the pigment, that is, the melanosomes. Therefore, the skin imperfections are eliminated in an effective and safe way.
No particular preparation is required to undergo a laser session to remove skin blemishes. The only factor to take into account is to be careful with solar radiation before and after the session.
The duration of the session is usually about 5 to 10 minutes depending on how large the blemish is. In case you need several sessions, you will have to wait at least two weeks to return to the consultation.
What is spots removal for?
Laser treatment can be very effective for the following types of blemishes:
Acne

.

Face blemishes

: there are a large number of spots that you can get on your face and can be treated with laser:

Melasma

Freckles

Pityriasis alba

Vitiligo

Phytophotodermatitis

Moles

Lentigines

Couperose

Birthmarks.

.

Caused by age or other factors:

they are very common and do not usually indicate any disease. They can have several causes and can be of different colors such as white, red, dark or brown, yellow and even purple.
Ready to change your look?
Fill in the form below and we will contact you to tell you what the next steps are.
Frequently asked questions about laser spot removal
How much does spot removal treatment cost?
As with many other aesthetic medicine treatments, it is difficult to give a price estimate without being able to study your specific case. Each person is different, and that is why at Clínica ICA we offer you a free initial consultation in which we will see exactly what you need and give you a personalized estimate.
Is the treatment painful?
The laser treatment sessions for the removal of spots are not painful, but you may feel a slight discomfort during them. Only in some very extreme cases will local anesthesia be needed.
After the session it is likely that scabs will form and their permanence can be variable. The scabs on the face usually last for a week. While those on the hands and décolleté usually last about three weeks.