Damon Clear in the Canary Islands
Get access to one of the most advanced dental treatments in the world.
The most advanced dental treatment at Clínica ICA
Nowadays, taking care of the esthetics of our teeth is fundamental, since we spend many hours socializing, at work meetings or with friends. The appearance of our teeth and our smile gives us security.
This is why orthodontics that allow us to reposition our teeth and progressively beautify our smile have been increasingly developed in recent years. Currently, there are ultra-precise treatments that are increasingly cheaper and more efficient.
Within modern orthodontics, we find the Damon Clear system, a new brand of braces that has entered the market with force thanks to its aesthetics and comfort. Over time it has become one of the most demanded orthodontic systems.
Damon Clear orthodontics has a self-ligating system, so it is not necessary to use rubber bands. It is also a product that is transparent, so the esthetic aspect is clearly better.
With its ceramic construction, they are hardly noticeable unless we look carefully, and in addition to this, they do not stain if we consume coloring foods such as coffee or if we consume substances such as snuff.
At Clínica ICA, we work with all types of orthodontics, but thanks to our years of experience and the work of our great team of professionals, we have considered Damon Clear technology to be one of the best for repositioning our teeth.
This system has already become one of the most demanded in our clinic and we can show you all its advantages.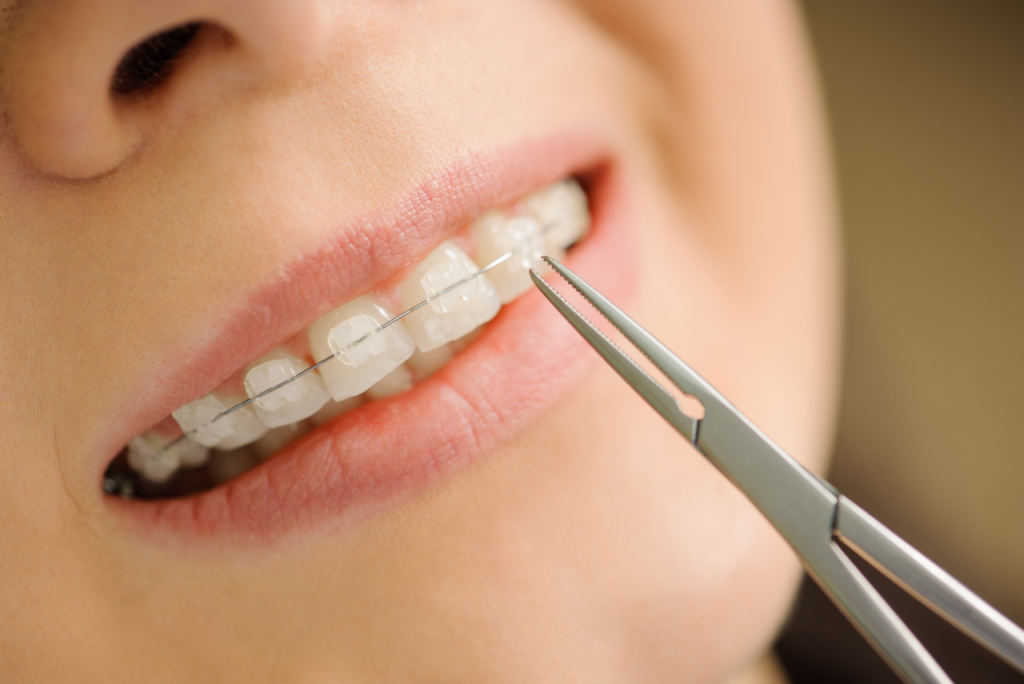 What is the Damon Clear system?
The main characteristic of the Damon Clear orthodontic system is that its brackets are self-ligating. This means that each orthodontic arch is attached to the other by means of a clip.
This consequently generates a reduction in treatment time, since the teeth will move faster and more precisely. In addition to improving esthetics and comfort, treatment time is also reduced.
The placement process is very simple, although it is important that it is carried out by qualified professionals to achieve the best results. These are the steps to follow:
First, we make a model of the mouth using a classic dental cast. It is important to carry out this step in order to know what shape the brackets will take and what results we want to achieve.
Subsequently, we create a completely transparent splint with which we will later perform the cementation.
In order to place the bracket, we will first have to prepare the tooth, cleaning it carefully so that the result is optimal.
Later we will place a piece of adhesive on the tooth, which will allow us to place the splint around our teeth. This step must be done carefully as it is the most important and the one that will determine the subsequent results.
Finally, we remove the transparent splint and once it is removed, we will have the Damon Clear brackets in place.
With this description you can see that the process of placing Damon Clear orthodontics is much simpler and much less invasive than conventional orthodontics. We will enjoy a less painful and uncomfortable treatment that provides excellent results.
Who is this treatment indicated for?
Damon Clear technology is specially designed for adults who want to wear a discreet and effective orthodontic treatment that does not harm their esthetics for their social or work meetings.
It can also be used by children and adolescents who do not want to wear highly visible orthodontics.
It is a virtually painless orthodontic and aesthetically it is much less noticeable than classic orthodontics. In addition to being less esthetic, classic orthodontics are also treatments that sometimes last for years.
Fill in the form below and we will contact you to tell you what the next steps are.
Advantages of the Damon Clear system
Now that we have seen that the process of placing Damon Clear orthodontics is so simple and effective, we are going to talk about other advantages offered by this revolutionary system in the world of orthodontics. 
Better hygiene
One of the main disadvantages of traditional orthodontics is the lack of hygiene. Brushing our teeth when we wear classic braces can become a real problem.
With the Damon Clear system we can have perfect hygiene of both our teeth and the orthodontics, as it does not have rubber bands or ligatures. It does not accumulate as much dirt and is easier to remove.
Less pain
With classic orthodontics, problems often arise from the friction of these against the mouth. We suffer small wounds in the form of sores or cuts, which cause us unwanted pain and discomfort.
With the Damon Clear system this does not happen because the friction of the brackets against our mouth is much less. We will be able to wear orthodontics without feeling pain or discomfort at any time of the day.
Shorter treatment time
As there is less friction, the treatment time is also considerably reduced. The Damon Clear system is faster and more effective than classic orthodontics.
This reduces the number of visits to the clinic and check-ups.
Reduction of complications
With traditional orthodontic treatment, it is often necessary to carry out intermediate treatments such as tooth extraction.
This results in a longer treatment time and an increase in discomfort during treatment. With Damon Clear technology we reduce these complications to the maximum, making them very infrequent.
Because of all these advantages and others that we will discover as we undergo treatment, Damon Clear orthodontics is undoubtedly one of the best options for repositioning our teeth and beautifying our smile.