Invisalign in the Canary Islands
The most modern treatment to align your teeth
Invisalign treatment at Clínica ICA
Nowadays, having perfect and aligned teeth is extremely important for our physical appearance, and that is why more and more people decide to use orthodontics.
For years, orthodontics have been tremendously popular, especially in young people whose teeth have finished developing and show major imperfections. However, in most cases they are invasive, uncomfortable and time-consuming treatments.
That is why Invisalign orthodontics has gained enormous popularity thanks to its incredible results and comfort. It is an invisible and tremendously aesthetic orthodontic treatment that achieves incredible results in our smile without having to use braces.
Among its many advantages, we must highlight that it is a painless treatment, which offers results as professional as those of classic orthodontics. We can lead a normal life without anyone detecting that we are wearing braces.
At Clínica ICA we specialize in dental treatments, and Invisalign invisible orthodontics is one of our favorite services and also one of the most demanded. Below, we will tell you about all its features.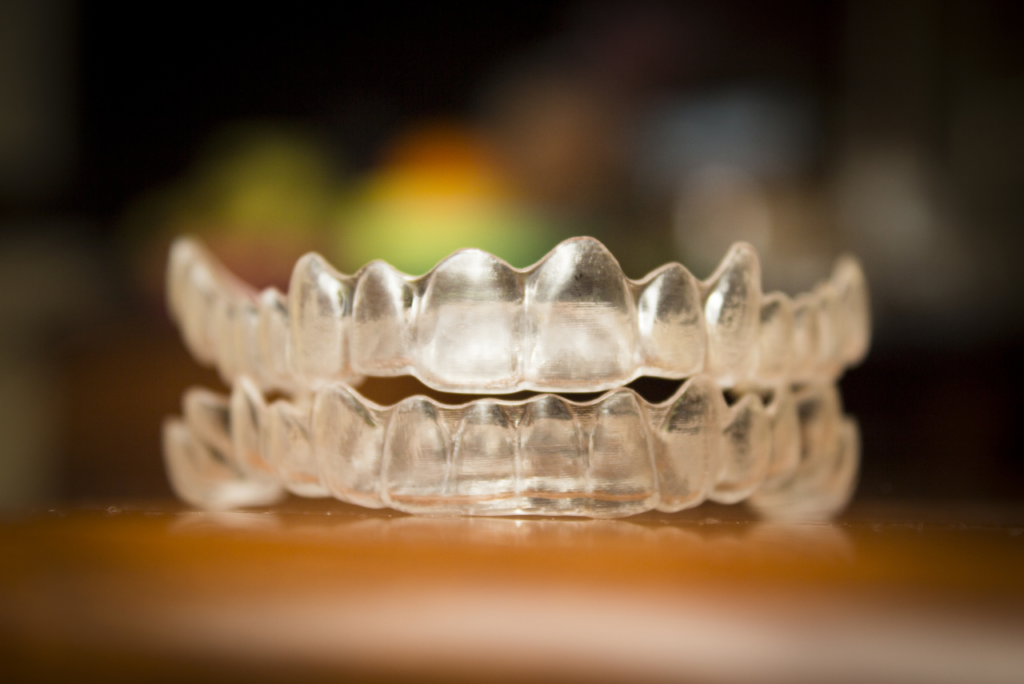 What is Invisalign treatment?
The most outstanding aspect of Invisalign orthodontics is that it offers incredible results in a very short time. It consists of two transparent aligners that are placed on our teeth and that we can put on and take off at any time.
This type of removable adapters can be replaced from time to time to modify the position of our teeth. The results begin to be noticed quite soon after the patient begins to use orthodontics.
Invisalign orthodontics must be worn for most of the day. At Clínica ICA we recommend around 20-22 hours of use. This means that we will be able to take them out at specific moments and especially to eat. It is important to keep it in our mouth most of the time to ensure the best results.
The effectiveness of Invisalign is proven in thousands of patients who have already undergone this treatment. There are many images showing the before and after results achieved in just a few weeks of treatment. Incredible results, with guaranteed comfort during treatment, you can't ask for more.
What do I have to do before using Invisalign?
First of all, the most important thing to keep in mind before undergoing treatment with Invisalign, is that we must go to the clinic to conduct a thorough study of the placement of our teeth and our oral health.
At Clínica ICA we will give you the best possible advice from our incredible professionals. We will plan your treatment from the first day to the last, modifying the aligners progressively to be precise with the final result.
We will use the latest technology such as 3D radiology to study your case. We will perform a detailed study of your teeth and we will see the imperfections we want to correct, as well as possible complications due to infections or dental diseases.
Once we start the treatment, the adaptation will be quick, since we are dealing with a very comfortable and not at all painful product. It will not modify our appearance in the slightest, not to mention the progressive correction it will make to our teeth until they are perfect.
How does it work and why is it so effective?
The main characteristic of Invisalign orthodontics is that it is an invisible orthodontic treatment that avoids having to carry out more invasive treatments in the future, such as classic orthodontics or maxillofacial surgery.
Invisalign invisible orthodontics is an absolutely revolutionary technique in the orthodontic sector that manages to align the teeth and place them strategically so that you can wear a spectacular smile.
This orthodontic treatment adapts individually to the characteristics of each patient, as the aligners can be changed as the process evolves. It is an alternative to classic orthodontics which also has the advantage of being painless and the aesthetic aspect is unbeatable.
An appointment takes place every two weeks in which the correct evolution of the teeth is checked and the aligner is modified, as the teeth move very little and in a very precise and millimetric way with each one of them.
We are talking about a transparent appliance that we can take off to eat, drink, brush our teeth or go to any business meeting or meeting with friends. It is a treatment with which you can see the results almost immediately, from the first weeks of use and which has no inconveniences.
Fill in the form below and we will contact you to tell you what the next steps are.
Benefits of Invisalign at ICA
As we have already seen, the most prominent advantage of orthodontics with Invisalign is that professional results can be achieved, maintaining the aesthetics of our teeth throughout the treatment.
In addition, we have to add to all this that visits to the clinic will be fewer, less invasive and that the treatment is completely painless. Below, we will take a look at the benefits one by one.
Aesthetics
There is no dental modification treatment less invasive than Invisalign. There are many types of braces and classic orthodontics that try to improve the aesthetics of orthodontics, trying to camouflage themselves in our mouth, however, none offer the results of this product.
Comfort
Braces are quite uncomfortable, at least at first. They can cause small wounds in the form of sores in our mouth, which can make it difficult for us to perform common tasks such as eating or drinking.
The only discomfort Invisalign generates is a slight pressure on the teeth for the first few days, which you quickly get used to. It is the least invasive technique and therefore the most comfortable.
Hygiene and health
Anyone who has ever worn braces in their life knows first hand that hygiene is the most complicated aspect. Traditional braces make it extremely difficult to clean our teeth.
However, with Invisalign we can get rid of this problem, as we can take them off and put them on whenever we want and wash them thoroughly with soap and water. In addition, brushing our teeth will be as usual and we will be able to maintain our hygiene in perfect conditions.